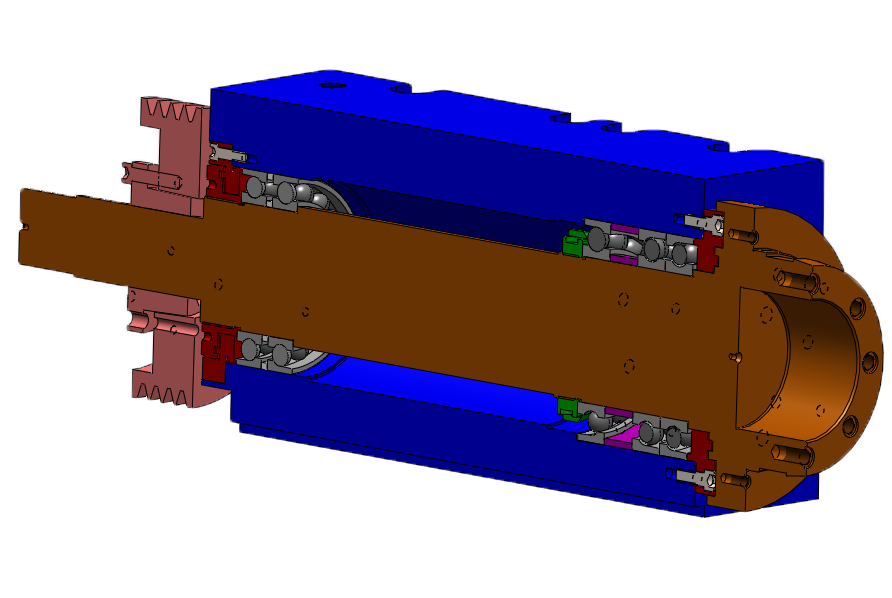 Electrospindles by ELTE
ELTE is renowned for their precision, reliability and cost-effective spindles used in all forms of
manufacturing and machining. For years they have been the go-to choice of manufacturers in
several industries, from manufacturing, automotive, industrial, woodworking just to name a few and
many more. Fischer Precision Spindles, Inc. is proud to work with them to get you the products you need!
What Is a Spindle?
Simply put a spindle is any time a shaft or spindle shaft is spinning on bearings that are housed in a housing. Machine tool spindles are rotating components that are used to hold and drive cutting tools or workpieces on lathes, milling machines and other machine tools. They use belt, gear, motorized, hydraulic or pneumatic drives and are available in a variety of configurations. Some machine tool spindles are housed in a solid block or box-like housing.
Others are bolted down via flanges or feet at the bottom of the housing. Most machine tool spindles that fit the heads of cutting tools feature a Morse taper, HSK or other standardized machine tool taper. Multiple spindle heads are sometimes even used to speed machining operations and in repetitive precision work such as close-tolerance milling or drilling. A variety of bearing types are used with machine tool spindles. These are just a few examples.
Spindles are also very common in any king of precision grinding work. They are commonly a higher speed application to something as simple as a wood router to a very complex high speed milling application with a high output motor, OTT drawbar for automatic tool changing and a fill coolant system to cool the unit properly. They vary from something small and less than a few pounds that fit in the palm of your hand that can reach 125,000 R.P.M. to huge spindles that run less than 100 R.P.M. are 10 feet plus in diameter and weight thousands of pounds.
What Is the ELTE – High-Speed Precision Spindle Advantage?
ELTE provides unmatched performance and reliability at a price point, making them the ideal choice for Production machining applications. They feature advanced technologies, including high-speed bearings and precision balancing, to ensure accuracy and smooth operation. They are also designed for minimal downtime and long service life.
ELTE Models
ELTE offers a wide range of spindle models, from small and medium-sized to large and extra-large. Each model is designed to meet the specific needs of the application, from high-speed milling operations to very precise drilling and grinding applications just to name a few.
Custom spindles are also offered as ELTE have an exclusive relationship their customers because they design, prototype and produce made-to-measure motors or electrospindles for them. They are
characterized by their ability to engineer, prototype, manufacture and supply any type of spindle to meet all the customers' needs.
How To Maintain ELTE's Electrospindles
ELTE's spindle designs are meant to be durable and reliable, but they still require regular maintenance to keep them functioning properly. It is important to regularly inspect the spindles for wear and tear, as well as clean them of any debris or dust.
A well-maintained spindle will last for years and provide reliable, accurate performance. You will know its time to replace it when it starts to become noisy or vibrate, or when the cutting speeds start to slow down significantly.
You may also notice a decrease in performance when the temperature of the spindle gets too high. ELTE's electrospindles feature advanced cooling systems to ensure they don't overheat, but it is still important to monitor the temperature of the spindle during use.
How To Install Electrospindles
Installing an electrospindle requires some technical knowledge. It is important to ensure that the spindle is securely mounted, while still allowing for easy access to all components. Align the spindle head accurately concerning the workpiece, as this will ensure accuracy and extend its lifetime.
How Are Electrospindles Used?
Electrospindles are used primarily for production manufacturing operations. They are capable of achieving high speeds and precise control during drilling, milling, and grinding operations. They are also used for other applications such as lathe work, polishing, deburring and wood routing again just to name a few.
Electrospindles can handle intense workloads without sacrificing accuracy or control, making them a reliable choice for high-volume or complex machining operations such as aerospace parts production.
The FPS Way
FPS-Spindles is the exclusive distributor of ELTE, providing a wide range of products tailored to the needs of customers. The company has been around since 1986. In addition to distributing these electrospindles, they also repair and rebuild them, as well as provide technical support for customers.
ELTE's electrospindles are the perfect choice for manufacturers in a variety of industries. With their advanced technology, robust construction, and reliable performance, they can provide a superior level of accuracy and productivity at a cost effective and competitive price. For more information on ELTE Spindles, please visit.
Who Should Use ELTE's Electrospindles?
ELTE is an excellent choice for quality spindles. Their durable construction and advanced technologies make them well-suited to a variety of machining operations, including drilling, milling, engraving, routing and grinding. Additionally, they are designed with flexibility in mind, allowing users to easily switch between different spindle models based on the application when needed. Contact us and get yours today!